Cavatelli Pasta with Arugula, Grape Tomatoes, & Ricotta Salata OR Roasted Wild Mushroom, Sage, & Parmigiano Bread Pudding (choose one)
Stuffed & Rolled Mediterranean Sea Bass with Fragrant Three-Herb Pesto OR Roasted Chicken in Balsamic-Honey Glaze (choose one)
Roasted String Beans with Sun-Dried Tomatoes, Garlic & Thyme OR Roasted Broccoli with Garlic & Chili (choose one)
"Smashed" Red-Skinned Baby Potatoes with Chives & Paprika OR Chive-Scented Ricotta Gnocchi in Aromatic Herb Butter (choose one)
The Ultimate Tiramisu OR Molten Chocolate Cake with Vanilla-Scented Whipped Cream (choose one)
See pictures of these dishes here
Comfort Food
Cavatelli Pasta with Arugula, Grape Tomatoes, & Ricotta Salata
Roasted Chicken in Balsamic-Honey Glaze
Roasted Broccoli with Garlic & Chili
Roasted Garlic Mashed Potatoes
Flourless Almond-Chocolate Cake with Vanilla Whipped Cream (Gluten Free)
See photos of these dishes here
Fireplace Dinner
Ricotta Gnocchi with Roasted Peppers, Olives, & Tomatoes
Filet Mignon with Leek & Red Wine Sauce ($10 per person supplement)
Roasted String Beans with Sun-Dried Tomatoes, Garlic & Thyme
Roasted Wild Mushroom, Sage, & Parmigiano Bread Pudding
Double Chocolate-Chunk Brioche Bread Pudding with Vanilla Whipped Cream
See pictures of these dishes here
Rustic Favorites
Cavatelli Pasta with Roasted Wild Mushrooms, Asparagus, & Parmigiano
Stuffed & Rolled Mediterranean Sea Bass with Fragrant Three-Herb Pesto
Roasted Fennel Gratin with Shaved Parmigiano
"Smashed" Red-Skinned Baby Potatoes with Chives & Paprika
The Ultimate Tiramisu
See pictures of these dishes here
Roasted Wild Mushroom Risotto OR Five-Herb Risotto (groups of 20 or less)
Chicken Cacciatora (With Garlic, Rosemary, & Tomato) OR Sicilian-Style Mediterranean Sea Bass with Pine Nuts, Olives, & Raisins (choose one)
Roasted Sweet Pepper Medley with Basil, Tomatoes, & Ricotta Salata OR Roasted Asparagus with Parmigiano (choose one)
Roasted Garlic Mashed Potatoes OR "Smashed" Red-Skinned Baby Potatoes with Chives & Paprika (choose one)
Flourless Almond-Chocolate Cakes with Vanilla Whipped Cream
See pictures of these dishes here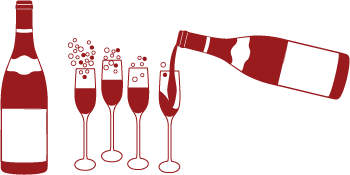 To elevate your private cooking event to an unparalleled level of luxury, consider adding on our Premium Finger Foods & Prosecco Reception: instead of house wine, we'll pour everyone a glass of bubbly Prosecco upon arrival, kicking off the festivities in high style, and we'll serve five delicious finger foods (instead of three).
Finger foods vary from phyllo rolls, crispy ravioli, skewered shrimp, vegetable frittata, bruschetta, homemade focaccia, herbed filet mignon skewers, crunchy polenta coins, and more... Our chefs let their imaginations go wild and come up with delectable bites! You can see some examples by clicking on the pictures below!
| | | |
| --- | --- | --- |
| Premium Finger Foods + Prosecco Reception | Premium Finger Foods Only | Prosecco Reception Only |
| $17.50 plus tax & gratuity per person | $10 plus tax & gratuity per person | $10 plus tax & gratuity per person |
Purchase handsome embroidered RUSTICO COOKING aprons as a souvenir for $20 per apron. Or splurge and order custom aprons with your logo or message for $30 per apron plus tax and shipping; please allow 3 weeks for customization.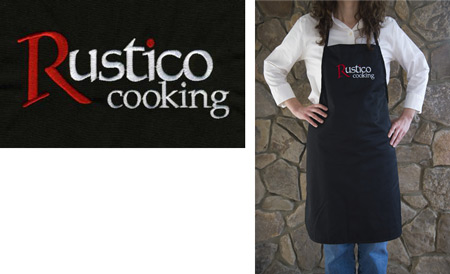 The Best Pasta Sauces Cookbook
Order Signed Copies of Rustico Cooking founder Micol Negrin's cookbook, The Best Pasta Sauces: $25 plus tax for bulk orders (10 or more) or $30 plus tax for smaller orders.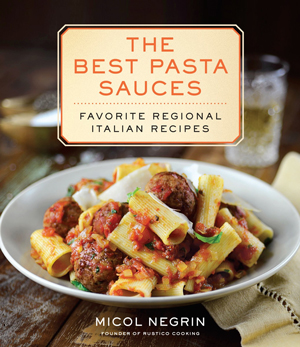 Unlike our New York City Hands-on cooking parties, virtual cooking classes are an ideal way to bond with colleagues, to host client events, and to connect with family and friends who live far away. We've had people across time zones participate in the same virtual class - as far as Austria!
Menus include a main course, a side dish, and a dessert. If you prefer a theme class, we can focus on pasta-making, pizza, or desserts. We can customize menus to suit dietary preferences such as gluten-free, vegan, vegetarian, Kosher, etc.
Class typically lasts 90 minutes but it can be longer or shorter depending on your preference.
The cost is $50 per person with a 12-person paying minimum, plus a one-time $150 administrative fee.
A shopping list will be provided to the organizer a week prior to class. We can make up the shopping list to serve the whole team if you are all cooking together, or each individual participant if you are cooking separately.
We will also provide the organizer a detailed equipment list a week prior to class along with any advance prep notes.
BONUS:
Participants will receive class recipes plus
3 free pdf recipe eBooks
(
Salads
;
Grilling
; and
Splendid Fruit Desserts
, featuring 55 additional recipes with color photographs).
Our chef is filmed using multiple cameras to allow participants to better see what is happening at the stove, on the cutting board, etc. Participants can ask our chef questions via a live chat.
Please email micol@rusticocooking.com to inquire about availability for your virtual event.
We look forward to cooking with you and your team!
Below see photos of the recipes you can choose to cook during your virtual event. Check suggested menus here
Virtual Event Pasta & Risotto
Virtual Event Main Courses
Virtual Event Sides
Virtual Event Dessert
Feel free to mix and match up to 3 menu items to create your own custom menu from the choices below.
VIRTUAL: ITALIAN COMFORT FOOD
Chicken cacciatora with tomatoes and rosemary
Ricotta gnocchi with sage butter sauce
Chocolate chunk brioche bread pudding
VIRTUAL: SEASIDE FLAVORS
Sea bass with artichokes and lemon
Tuscan bread, tomato, and basil salad
Crushed berry and Mascarpone mousse
VIRTUAL: ITALIAN COUNTRY COOKING
Herb & cheese stuffed zucchini
Ricotta gnocchi with herb-scented tomato sauce
Chocolate and amaretto semifreddo
VIRTUAL: A TUSCAN FEAST
Braised chicken with chickpeas, lemon, and herbs
Roasted string beans with sundried tomatoes and thyme
Ricotta cheesecake with berry coulis
VIRTUAL: ELEGANT ENTERTAINING
Ricotta gnocchi with roasted squash
Stuffed and rolled sea bass in light herb infused olive oil
Molten chocolate cake with vanilla-scented whipped cream
VIRTUAL: PERFECT RICOTTA GNOCCHI & MORE
Ricotta gnocchi with sausage and greens
Roasted eggplant, zucchini, and pepper medley
Fresh summer berry, Limoncello, and mascarpone mousse
VIRTUAL: CLASSIC ITALIAN DESSERTS
The ultimate tiramisu
Crispy Tuscan almond biscotti
VIRTUAL: GLUTEN-FREE MENU
Risotto with chopping block pesto
Roasted eggplant, zucchini, and peppers with ricotta salata
The ultimate panna cotta
Hi Micol, Thank you so much for the [virtual] class tonight. You and Dino were wonderful! I loved your anecdotes and special tips, and especially the pace of the evening. You waited for thumbs up, I doubt anyone felt rushed, and it was fun and not stressful. And the food (at least the gnocchi so far) is delicious! Can't wait to try the tiramisu later! It was perfect! Thank you both again so very much! LeighAnne, Pfizer
I got a lovely email from Daniel last night with beautiful photos of his food and a note that the group had a blast. Many thanks for a lovely event. The team had a GREAT time! The video looks perfect-thank you for arranging this. Cleo, Cravath
Micol, Thank you so much for the most amazing class last Tuesday! I took it with my mom and sisters from our family beach vacation in the OBX and it was a highlight of our time together! We've all taken in-person classes with you before throughout the years, and we weren't sure how the virtual class would go, but it was so much better than we could have hoped for. Thank you for thinking creatively and providing opportunities like this. My mom and sisters live in NJ, and I live in NC, and we hadn't seen each other in 8 months. This was seriously a wonderful way to spend our time...and the meal was incredible. Thank you again. Tara, NC
My family gathered for a virtual cooking class and birthday celebration... it was hosted by Rustico Cooking , Micol Negrin and her husband Dino De Angelis who made cooking so easy. 12 couples all worked on line to making a most amazing meal of ricotta gnocchi with sage sauce, sweet and sour fish with olives and tomatoes Sicilian style, eggplant with mint and chocolate bread pudding with whipped cream. We did it all in a mere 90 minutes. Every dish was well thought through and delicious. It was fun to cook together, eat together and celebrate together in a fun social distancing way. Bravo to Micol and Dino!Judie, Brooklyn
Thank you for an amazing and delicious evening! Everything was delicious and we so appreciate everything you did to make the experience so fantastic! I'm so excited to make this all again! I never thought I could cook Branzino! As a family who is so spread out and especially during Covid, this was a real special treat! Laine, NYC
Thank you and Dino for a wonderful evening! We have already received great feedback on our virtual cooking class!Anastasia, Kelley Drye
Thank you so much, we had a blast!Kurt, Voya