After you register for a class, we'll email you an invitation to sign in to our portal. The portal is a private area of the website for class participants which contains useful information pertaining to the cooking class you reserved: shopping list, equipment list, recipes, helpful videos showing how to prepare specific ingredients in advance of the class (when required) as well as the zoom meeting link. This way we will be on the same page and Kitchen Sync'ed by the time the class starts... Are you registered? use your information and access the portal
Pricing: The cost is $48 per device. We can also host a private virtual class for you and your friends or colleagues; email us with your target class date and time, group size, and preferred menu from those outlined below, and we'll be happy to set up a private class.
Cancellation: If you need to reschedule your class, we require a minimum of 72 hours notice to apply credit to a future class. If you can't make it to class with less than 72 hours notice, we'll email you a link so you can watch the recorded class.
Prefer to watch only? You can opt out of cooking alongside us and just watch, take notes, and learn.
Advance Prep
You should plan on about 1 hour of prep time before class to set up your ingredients and equipment. We'll be on Zoom 10 minutes before class, available by chat if you have questions regarding prep, equipment issues, or possible ingredient substitutions. Some menus require more prep than others (including measuring and chopping, to allow for more time spent on complex techniques like rolling out fresh pasta, etc); others will have you doing all the chopping and measuring with us, since the recipes are simpler. This will all be indicated clearly on the email we send when you register.
Before class begins, make sure you have all your ingredients and equipment ready. Set up your tablet or computer where it's visible but out of the way, and take a moment to become familiar with the various functions on Zoom (chat, gallery view, mute on or off, video on or off, etc) before class starts. Then join us on Zoom, logging in with the name you signed up with online.
What You'll Need
A Laptop, Smart Phone, or Tablet
With a webcam, microphone, and internet access so you can see us and we can see you. For tablet and cell phone users, we suggest this flexible gooseneck stand - (or this identical one - we have one of each and cannot tell them apart!) it keeps the tablet out of your precious counter space...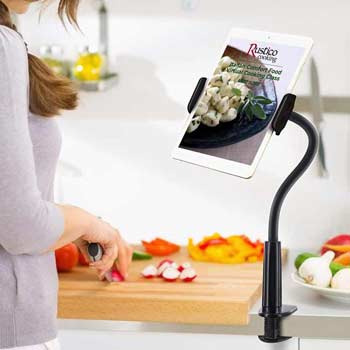 Groceries
We'll provide a detailed shopping list (including favorite brands and possible substitutions when applicable) after you register. Most items will be available at your local market. You'll find many of the items on your shopping list are likely already in your pantry or fridge (salt, pepper, sugar, flour, olive oil, butter etc). We'll happily provide suggestions for substitutions to accommodate various dietary needs by email.
Basic Equipment
Most menus require basic cooking implements (chef's knife, cutting board, bowls, tongs, spatulas, skillets, saucepans, whisk, strainer, etc), and we will provide a detailed list of these when you reserve. If you don't own a scale, we strongly suggest you buy one for greater accuracy when measuring; we like this $30 scale from Oxo and this $15 one from Tenergy.
What You'll Get
Fully Interactive, Hands-On Instruction
Just as in our live, hands-on cooking classes, you'll receive individual attention and personalized instruction from Micol and Dino. We use multiple cameras to provide different angles and close ups of key steps, so you can better learn a technique, as though you were right in the kitchen with us.
Authentic Recipes
Each class features recipes we have perfected over twenty years of teaching Italian cooking to thousands of students. Micol has written three cookbooks (including Rustico: Regional Italian Country Cooking, which was nominated for a James Beard award; read more about us here) so you can be sure our recipes are tried and true, authentic, and delicious.
A Memorable Meal
Once the cooking is done, you'll be able to savor a fabulous meal in the comfort of your home. Recipes are scaled to serve 2 people (desserts serve 6 to 8) but you can double up when shopping and prepping if you want to feed a larger group or have leftovers to enjoy when class is over.
Access to an Exclusive Website for Class Members Only
After you register, we will email you a link to register to our exclusive portal, a members-only website that features class recipes, prep notes, and technique videos specific to the class you reserved. You can ask questions (food substitutions, allergies etc...) using the portal's pivate messaging functions. There is a public messaging area where you can post photos of your finished dishes. And a few days after class, we will upload the class video to the portal so you can watch again whenever you feel like it!