The traditional cooking of Val d'Aosta, which incorporates both French and Swiss influences, is mountain cuisine at its best. Stoneground cornmeal is transformed into nutty polentas, cow's milk Fontina cheese lends a lovely aroma to fritters, risottos, and soups, and the local bread is made of cold-hardy northern grains like rye or buckwheat, perhaps with a few chestnuts thrown in. Beef is the staple meat, but the mountains also offer an abundance of game: venison, mountain goat, and more are turned into delicious cured meats to be savored year-round or cooked fresh into fortifying, grappa-spiked braises.
Additional Recipes from Val d'Aosta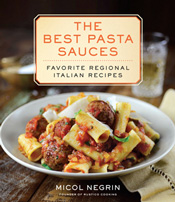 Published in The Best Pasta Sauces by Micol Negrin (Ballantine Books, October 2014):
Creamy Fontina Sauce with Crushed Walnuts and White Truffle Oil
Slow-Cooked Savoy Cabbage Sauce with Pork
The Hunter's Rabbit Ragu
Sauteed Mushroom Sauce with Galic, Parsley, and Cream
Chunky Trout and Tomato Sauce**
**Bonus recipe available in exclusive companion eBook when you order The Best Pasta Sauces directly from RUSTICO COOKING.
Val d'Aosta Recipes
Bread, Cabbage, and Fontina "Soup"
This is a delicious, thick, casserole-style soup with barely any liquid but plenty of taste. To achieve the proper texture, close-grained country bread is a must; also important is resisting the temptation to drown the bread, cabbage, and Fontina in broth, since this is more of a thick bread pap than a soup in the ordinary sense. Savoy cabbage is a crinkly green cabbage; it has an earthier taste than smooth green cabbage, but the latter can be used if Savoy cabbage is unavailable.
4 cups (1 quart) beef or chicken broth
3/4 teaspoon salt
8 large Savoy cabbage leaves, thinly sliced
10 ounces day-old country bread, cut into 1/2-inch-thick slices
¾ pound Fontina from Val d'Aosta, rind removed, thinly sliced
1/8 teaspoon ground cinnamon
1/8 teaspoon freshly ground black pepper
2 tablespoons (¼ stick) unsalted butter
Preheat the oven to 450°F.
Bring the broth to a boil in a 1-quart pot and season with 1/2 teaspoon of the salt. Add the cabbage and cook 10 minutes; remove with a slotted spoon to a plate (reserve the broth), and cool. Spread out the bread in a single layer on an 11- x 17-inch baking sheet and toast in the preheated oven for 5 minutes, or until aromatic but not dry.
Line a shallow round 10-inch ovenproof dish with half of the slices of bread, breaking the bread as needed to fit.
Top with half of the cabbage and half of the Fontina, season with a pinch of salt, and repeat, making a second layer with the remaining bread, Fontina, and salt. Pour on the broth, sprinkle with the cinnamon and pepper, and dot with the butter.
Bake in the preheated oven for 20 minutes if you prefer a moist consistency or for 30 minutes if you like a golden crust, and serve hot. Serves 4
Grilled Polenta Coins with Mushroom Ragù
You can buy a log of cooked polenta (available in the refrigerated section of most supermarkets) rather than cook and cool your own. If you cannot find polenta logs, cook 1 cup of instant polenta according to package instructions, spread it out on an oiled cookie sheet to a thickness of 1/4 inch, and cool, then cut into 2 and 1/2-inch coins with a round cookie cutter.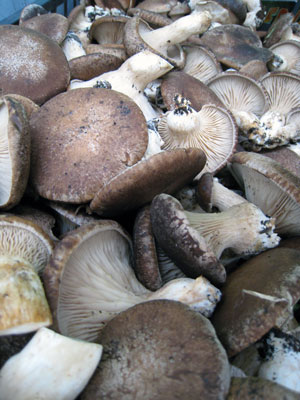 1 tablespoon unsalted butter, plus extra for greasing the baking sheet
1 pound oyster mushrooms, rinsed, dried, and chopped
1 pound chanterelle mushrooms, rinsed, dried, and chopped
1 garlic clove, minced
1 shallot, minced
4 thyme sprigs, leaves only, minced
1 tablespoon minced Italian parsley
1/2 cup dry white wine
1/2 teaspoon salt
1/4 teaspoon freshly ground black pepper
1 cup heavy cream
1/2 cup freshly grated Parmigiano Reggiano
One 1-pound cooked polenta log, cut into 1/4-inch-thick disks
1 tablespoon extra-virgin olive oil
Melt the butter in a 12-inch skillet over a medium-high flame. Add the oyster and chanterelle mushrooms and sauté for 5 minutes, or until wilted. Add the garlic, shallot, thyme, and parsley, and sauté another 5 minutes.
Deglaze with the wine; when it evaporates, after about 5 minutes, add the salt, pepper, and cream, and cook until the cream reduces to half of its original volume, about 5 minutes. Add the Parmigiano, stir until smooth, and remove from the heat. Taste for salt and adjust if needed.
Preheat the oven to 550°.
Heat a nonstick grill pan for 5 minutes over a high flame. Brush the polenta disks on both sides with the olive oil and cook in a single layer until browned lightly on both sides, about 3 minutes per side, turning once; you may need to do this in batches to avoid crowding the pan.
Arrange the grilled polenta on 2 parchment paper-lined 11-inch x 17-inch baking sheets and top with the mushroom ragù. Bake in the preheated oven for 5 to 8 minutes, or until golden and crisp around the edges, and serve hot. Serves 10 as an appetizer, 4 as a first course