Nicknamed "The Green Heart of Italy," Umbria is nestled next to Tuscany in central Italy. Landlocked, it relies on pork for most of its classic preparations, and its pork butchers are said to be the best in Italy: every scrap of the pig is put to good use, and specialties like Guanciale (the salted and cured meat from the pig's cheek) are tossed into pasta sauces and pots of fava beans or peas. And the region's aromatic black truffles scent many dishes, from delicate polentas to savory cheese breads.
Additional Recipes from Umbria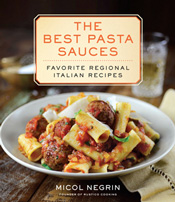 Published in The Best Pasta Sauces by Micol Negrin (Ballantine Books, October 2014):
Black Truffle Sauce in the Style of Spoleto
Egg, Sausage, and Guanciale Sauce with Lemon and Nutmeg
Sausage, Tomato, and Asparagus Sauce
Caramelized Fennel and Crumbled Sausage Sauce
Mushroom Sauce Norcia-Style**
**Bonus recipe available in exclusive companion eBook when you order The Best Pasta Sauces directly from RUSTICO COOKING.
Umbria: Recipes
Sausages Stuffed with Truffled Pecorino
This simple but effective Umbrian recipe is a signature dish at Norcia's Granaro del Monte Cooking School.
4 sweet Italian sausages, casings removed
¼ pound truffled Pecorino cheese
Preheat the oven to 350 degrees. Place the skinless sausages on a roasting pan and bake in the preheated oven 10 minutes, or until almost cooked.
Cool 5 minutes. Using a paring knife, make a long slit down the middle of each sausage (but be careful not to cut all the way through-you still want the sausages to hold together). Stuff the slits with the cheese and return the sausages to the oven. Bake another 10 minutes, or until the cheese is melted and the sausages are cooked all the way through.
Serve hot, with crusty bread and a green salad tossed with olive oil. Serves 4
Mirella's Truffled Artichoke Flan
This outstanding Umbrian recipe is from chef Mirella Argilli at Il Panciolle, in Spoleto. Mirella sometimes adds grated Fontina cheese to the truffle sauce.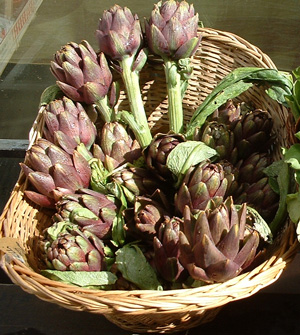 For the flan:
extra-virgin olive oil to coat the molds
bread crumbs to coat the molds
3/4 pound artichokes
2 tablespoons lemon juice
½ cup vegetable broth
2 tablespoons freshly grated Parmigiano Reggiano
2 large eggs, beaten to blend
1/3 cup plus 1 tablespoon heavy cream
1/4 teaspoon salt
1/8 teaspoon freshly ground black pepper
For the sauce:
3 tablespoons unsalted butter
1/4 cup unbleached all-purpose flour
2 cups whole milk, heated to boiling
1/4 teaspoon salt
1/8 teaspoon freshly ground black pepper
2 tablespoons grated fresh black truffle
Make the flan: Preheat the oven to 350 degrees.
Coat 6 individual (1-cup) soufflé molds with olive oil and bread crumbs. Refrigerate.
Trim the artichokes; immediately place in cool water with the lemon juice to prevent oxidation.
Drain and slice the artichokes, and place in a pan with the broth. Cook until very tender over medium heat.
Purée the sautéed artichokes until smooth in a food processor. Place in a bowl and add the Parmigiano, eggs, cream, salt, and pepper. Fill the prepared molds with the mixture and place in a roasting pan filled halfway with warm water. Bake in the preheated oven 25 minutes, or until set.
Meanwhile, make the sauce: Melt the butter in a small pan. Add the flour and cook over low heat, whisking all the time, for 2 minutes, or until the flour loses its raw smell. Do not let the flour take on any color.
Slowly add the warm milk, whisking all the while to avoid lumps. Season with the salt and pepper and cook until thick, whisking often, about 10 minutes after it reaches a boil. Whisk in the grated truffle and keep warm.
Spoon the sauce onto 6 plates. Place a flan on each plate and serve hot. Serves 6
Grilled Herb-Rubbed Chicken
Umbrians are masters at grilling meat and poultry, and have impressive indoor hearths where they can cook over live flames all year long, like in the photo here. I like to marinate the chicken for up to 2 days in the refrigerator if possible; the longer you marinate meat, the more tender it will become, and the better the flavors of the marinade will penetrate. Before grilling the chicken, return it to room temperature; this will help it cook through more evenly. If you grill breasts instead of legs, they will cook through more quickly—avoid overcooking or they will be dry and stringy.
12 boneless chicken thighs, skin on
2 lemons, 1 halved and 1 cut into thin slices
1 tablespoon extra-virgin olive oil
1/4 cup dry white wine
2 tablespoons minced rosemary
2 tablespoons minced thyme
2 tablespoons minced sage
6 garlic cloves, minced
1 teaspoon black peppercorns, coarsely crushed in a mortar
1 teaspoon salt
Rinse the chicken under cool water, dry it, rub it with 1 of the lemon halves, and place in a large container. Toss with the olive oil, wine, rosemary, thyme, sage, garlic, and black peppercorns; set aside to marinate for 2 hours at room temperature or up to 2 days in the refrigerator.
When you are ready to serve, season the chicken with the salt.
Heat the grill to a medium-high flame.
Place the chicken, skin side down, on the grill. Cook until it is browned on the bottom, about 10 minutes. Turn and cook until the chicken is browned on the other side and cooked all the way through, about 10 more minutes.
Arrange the chicken on a serving platter. Sprinkle with the juice from the remaining lemon half and serve hot, garnished with the lemon slices. Serves 6
Griddle-Cooked Flatbread
I first discovered torta al testo in a small Umbrian town years ago. Thin, soft, speckled with brown, it was addictively smoky in flavor, and totally satisfying. This delicious flatbread is cooked on a hot testo (a pan with a concave lid) in Umbria, hence its name. Torta al testo has been made in Umbria for thousands of years. Similar breads exist across central Italy, especially the Marches, where they go by other names.
Torta al testo can be eaten on its own, like any other bread, or wrapped around a sumptuous array of fillings: I especially love a dusting of freshly grated Pecorino and a thin slice or two of Prosciutto. I often serve it alongside a platter of antipasto offerings: preserved vegetables, marinated olives, sharp cheeses, salty salumi... try it for an informal get-together with friends and let me know how you like it.
Step 1
Gather the ingredients for the dough:
3 cups unbleached all-purpose flour, plus extra for the counter
1 teaspoon salt
2 teaspoons baking soda
Place the flour, salt, and baking soda in a bowl and mix with a wooden spoon. Gradually pour in ¾ cup plus 1 tablespoon of warm water.
Step 2
Stir with a wooden spoon until the dough begins to come together. If the dough is wet, add a bit of flour; if it is dry, add a touch of water. When the dough is soft but not wet, and forms a rough mass around the spoon, it is ready to be kneaded.
Step 3
Turn out onto a counter and knead 5 minutes, or until a soft, smooth dough forms, sprinkling in additional water if the dough is dry or additional flour if it is sticky. Use a vigorous motion when kneading the dough to ensure that it becomes smooth and supple. Do not add too much flour as you knead, or the dough will become tough and will be difficult to roll out later. The dough should be soft but not sticky.
Step 4
Shape into a ball, dust lightly with flour, wrap, and let rest 30 minutes.
Step 5
On a very lightly floured counter, cut the dough into 8 equal pieces. Let rest 15 minutes, covered with a towel.
Step 6
Roll out each piece into a 5-inch circle using a rolling pin. Prick each circle 3 times with a fork; this will prevent ballooning as the flatbreads cook. Arrange the dough circles on a very lightly floured tray in a single layer (try not to stack them, or they might stick together). Each dough circle will yield one torta al testo.
Cover with plastic wrap to prevent drying while you heat the pan and cook each torta al testo.
Step 7
Heat a griddle (or grill pan if you have one) to a high flame. Cook each torta al testo until golden-brown on both sides, about 2 minutes per side, turning once. Enjoy the torta al testo hot, as an accompaniment to cheeses and cured meats, or wrap around a savory stuffing and fold in half.
Torta al testo can be served plain, or it can be stuffed with all manner of savory ingredients... I adore it stuffed with shaved truffled Pecorino (another famous Umbrian specialty) or shaved Parmigiano and thinly sliced Speck (not at all Umbrian, but amazingly delicious). Or you can try it with a sweet filling of fresh whole-milk Ricotta sweetened with sugar and flavored with ground cinnamon for a sweet treat. Makes 8
Store leftovers in freezer-safe plastic bags in the freezer up to 1 month, making sure to first wrap each torta al testo in parchment paper to protect it from frezer burn, and defrost in a preheated 350 degree oven for 5 minutes, or until pliable. If you like, brush with olive oil and sprinkle with sea salt before eating or stuffing for additional flavor.
Castelluccio Lentils with Pancetta and Aromatic Herbs
The tiny lentils from the Umbrian town of Castelluccio are prized across Italy for their earthy, sweet taste and their ability to maintain their shape even after long simmering. They are available at Italian specialty foods stores. French Du Puy lentils, more readily available in specialty food markets in the US and Canada, can be substituted.
1 and ½ cups Castelluccio lentils
2 tablespoons extra-virgin olive oil
1 medium yellow onion, minced
1 celery stalk, chopped
4 carrots, chopped
¼ pound Pancetta, excess fat removed, cubed
¼ teaspoon chili flakes
2 garlic cloves, minced
6 sage leaves, minced
6 thyme sprigs, leaves only, chopped
1 bay leaf
6 cups chicken broth or water, plus extra as needed
2 tablespoons strained Italian canned tomatoes
½ teaspoon salt
¼ teaspoon freshly ground black pepper
Rinse the lentils, pick them over, and set aside.
Heat 1 tablespoon of the olive oil in a 2-quart pot and add the onion, celery, carrots, Pancetta, chili, garlic, sage, and thyme. Cook 10 minutes over medium heat, covered, or until the onion is soft and golden, stirring once in a while.
Add the lentils and bay leaf, and stir to incorporate. Sauté 2 minutes, stirring gently. Add the broth or water (it should cover the lentils by 1 inch; add more if needed), the tomatoes, and the salt. Bring to a boil, stirring, and cover; cook over medium-low heat 1 and ½ hours, or until the lentils are soft but not falling apart, adding a little more broth or water if needed. The consistency should be thick, not soupy. Adjust the salt as needed.
Serve hot, drizzled with the remaining tablespoon of olive oil and sprinkled with the pepper. Serves 6