Mysterious and isolated, Sardinia has been inhabited since the Neolithic Age. Phoenician, Greek, Arab, Spanish, and French invaders have come and gone, marking the local language, customs, and cuisine. The mountainous inland terrain is home to wild animals (boar, mountain goat, hare, and more) which are transformed into succulent pasta sauces, stews, and roasts. Lamb, the island's favorite meat, is often cooked in the company of wild fennel, and sheep's milk cheese appears at nearly every Sardinian meal.
Additional Recipes from Sardinia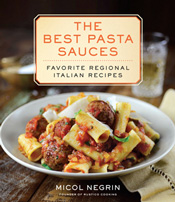 Published in The Best Pasta Sauces by Micol Negrin (Ballantine Books, October 2014):
Red Mullet Roe with Garlicky Bread Crumbs
Dried Porcini Mushroom Sauce with Cream, Garlic, and Chili
Lamb Ragu with Sun-Dried Tomatoes and Saffron
Rich Lobster Sauce
Sardinian-Style Pork and Veal Ragu**
**Bonus recipe available in exclusive companion eBook when you order The Best Pasta Sauces directly from RUSTICO COOKING.
Sardinia Recipes
Knitting Needle Pasta with Pork Ragu
Making maccheroni al ferretto is a time-honored tradition in Sardinia; it takes some practice to shape the small bits of semolina dough around a knitting needle, but the result is a chewy, delicious pasta that absorbs sauce splendidly. If you don't have time to make it from scratch, you can find dried busiati (as the pasta is called in Sicily) in specialty markets.
For the maccheroni:

2 cups semolina flour
2 large eggs
cool water as needed

For the ragu:

2 tablespoons extra-virgin olive oil
1 large yellow onion, very thinly sliced
2 garlic cloves, minced
1 tablespoon minced Italian parsley
½ pound pork shoulder, finely minced or coarsely ground
1 cup dry red wine
2 cups chopped canned Italian plum tomatoes
1 bay leaf
1 cup cool water, plus extra as needed
1 and ¼ teaspoons salt
½ teaspoon freshly ground black pepper, plus extra to serve

To cook and serve:

2 tablespoons salt
2 tablespoons extra-virgin olive oil
1/2 cup freshly grated Pecorino Sardo
Make the maccheroni: Place the semolina flour on a counter. Make a well in the center and break the eggs into the well. Using your fingertips, beat the eggs, then drag the flour into the eggs little by little. Add a bit of cool water as needed to create a firm dough that holds together.
Knead the dough for 5 to 10 minutes, or until it is smooth and satiny and no longer grainy. The dough should be firm, or else it will not slip off the knitting needle when you shape the maccheroni.
Cover the dough with plastic wrap while you work. Cut off a small piece of dough, keeping the rest covered, and snip it into hazelnut-sized pieces. Roll each piece into a thin log between your palms, then place each log on the counter. Press a knitting needle (about 2 mm diameter) on top of each log and put your hand on top of the knitting needle, directly above the log. Roll back and forth on the counter until the log thins out into a long, hollow spaghetto about 2 inches long; it may take some practice, but eventually you will get the feel for it. Slip off each maccherone as you shape it and place on a parchment paper-lined tray; dust the maccheroni with semolina once in a while to prevent sticking.
Make the ragu: Place the olive oil, onion, garlic, and parsely in a saucepan large enough to accommodate the pasta later.
Cook over medium heat until the onion releases its aroma and wilts, about 10 minutes.
Add the pork and cook, stirring often to break it into tiny pieces, about 10 minutes; the pork should look rich and brown and all the water in the pan should have evaporated. Pour in the wine and cook, scraping the bottom of the pan, for 5 minutes, or until the wine evaporates.
Stir in the tomatoes, bay leaf, water, salt, and pepper. Cover and lower the heat to a gentle simmer and cook, covered, for 1 hour. Be sure that there is always some liquid in the pan. Taste for seasoning, and adjust as needed. Keep warm.
Cook the pasta: Bring 5 quarts of water to a boil. Add the maccheroni al ferretto and salt, and cook until al dente, about 8 minutes; drain, reserving 1 cup of the pasta cooking water. Toss the maccheroni with the ragu and stir in as much of the reserved pasta cooking water as needed to dilute the sauce to a coating consistency.
Stir in the olive oil and Pecorino, and serve hot. Serves 4
Sardinian Pasta with Sausage and Ricotta
Malloreddus are a small, oblong, grooved Sardinian pasta reminiscent of gnocchi. They are made of semolina flour and water (at times a bit of saffron is added), and take longer than most dried pastas to cook; 15 to 20 minutes is the norm. If you can't find malloreddus (they are also called gnocchetti sardi), or Sardinian gnocchi, opt for cavatelli (pictured here) instead.
1 pound malloreddus
2 tablespoons salt
¾ pound whole-milk Ricotta
½ cup freshly grated Pecorino Sardo (Sardinian Pecorino; Pecorino Romano can be substituted)
¼ teaspoon freshly ground black pepper
½ pound spicy sausage, casings removed and crumbled
1 garlic clove, minced
1 tablespoon extra-virgin olive oil
Bring 5 quarts of water to a boil. Add the malloreddus and salt, and cook until al dente; drain, reserving 1/2 cup of the pasta cooking water.
Meanwhile, beat the Ricotta, Pecorino, and pepper until smooth in a bowl.
Cook the sausage in a 12-inch skillet over medium-high heat until browned lightly and cooked through, about 8 minutes. Stir in the garlic and cook 30 seconds.
Fold in the malloreddus, reserved pasta cooking water, and Ricotta mixture; cook 30 seconds over medium-high heat, stirring to coat evenly. Serve hot, drizzled with the olive oil. Serves 6
Chicken with Fennel, Olives, and White Wine
This succulent main course is equally delicious when rabbit is substituted for the chicken. Serve with roasted potatoes or crusty bread to mop up the delicious cooking juices.
8 chicken legs, halved and skinned
2 fennel bulbs with fronds, coarsely chopped
6 garlic cloves, halved
1/2 cup black olives
2 teaspoons fennel seeds, lightly crushed
1/4 to 1/2 teaspoon chili flakes
1 teaspoon freshly ground black pepper
1 cup dry white wine
1 tablespoon extra-virgin olive oil
1 teaspoon salt
Combine the chicken pieces, fennel wedges and fronds, garlic, olives, fennel seeds, chili, pepper, wine, and olive oil in a 10- x 14-inch roasting pan. Refrigerate for 2 to 48 hours, tossing once in a while.
Preheat the oven to 450°F.
Season the chicken and fennel evenly with the salt. Roast in the preheated oven for 1 hour and 15 minutes, or until the chicken is browned and cooked all the way through and the fennel is tender, basting every 15 minutes with the cooking juices. Serve hot. Serves 4