From the peaks of snowcapped mountains to the shores of glittering lakes, Piedmont encompasses a diverse and prolific landscape. First-class wines like Barolo, Barbaresco, and Barbera hail from hillside vineyards, noble partners to a cuisine that is unabashedly rich and deliciously refined. Fresh pastas are stuffed with delicately spiced forcemeats and showered with fragrant white truffles, rice is paired with everything from frogs' legs to Castelmagno cheese, prized cuts of meat are boiled to tender perfection and served with great pomp during the cold winter months, and the chocolate confections are the best in the country.
Additional Recipes from Piedmont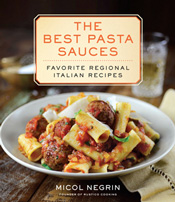 Published in The Best Pasta Sauces by Micol Negrin (Ballantine Books, October 2014):
Quick-Cooked Chicken and Marsala Sauce
Parmigiano Sauce with Fresh Nutmeg
Crushed Hazelnut and Herb Sauce
Potato, Onion, and Fontina Sauce with Pancetta
Anchovy and Garlic Sauce**
**Bonus recipe available in exclusive companion eBook when you order The Best Pasta Sauces directly from RUSTICO COOKING.
Piedmont Recipes
Gnocchi in Delicate Mushroom Sauce
The sauce for the gnocchi combines dried porcini with fresh shiitake and a hint of tomatoes for a delicately woodsy aroma. In Piedmont, fresh porcini would be used instead.
1 ounce (1/2 cup) dried porcini mushrooms
1 teaspoon plus 1 tablespoon extra-virgin olive oil
1/2 pound shiitake mushrooms, stems removed, caps minced
2 garlic cloves, minced
2 tablespoons minced Italian parsley
6 large ripe plum tomatoes, peeled, seeded, and diced
2 tablespoons plus 1/2 teaspoon salt
1/4 teaspoon freshly ground black pepper
2 pounds fresh potato gnocchi
1/4 cup freshly grated Parmigiano Reggiano
Soak the dried porcini in cool water to cover for 30 minutes, or until soft and pliable; drain, reserving the soaking water, and rinse, then chop finely. Strain the soaking water through a cheesecloth-lined sieve and set aside.
Heat 1 teaspoon of the olive oil in a 12-inch sauté pan over a medium flame. Add the shiitake, garlic, parsley, and porcini, and sauté 10 minutes, or until the shiitake have let out all their liquid and the liquid has evaporated. Add the tomatoes, 1/2 teaspoon of the salt, the pepper, and the reserved porcini soaking water.
Bring to a boil and cover; cook 15 minutes, stirring once in a while; keep warm.
When you are ready to cook the gnocchi, bring 8 quarts of water to a boil.
Add the remaining 2 tablespoons of salt. Drop in the gnocchi and cook until they float to the surface; remove with a slotted spoon to a bowl.
Fold in the warm sauce with a rubber spatula (you may not need all of it), dilute with as much of the gnocchi water as needed to create a light, flowing consistency, and stir in the remaining tablespoon of olive oil and the Parmigiano. Serve hot. Serves 8
Crostini with Quick Tuna Mousse
Serve these crostini with a glass of sparkling white wine for an easy and informal cocktail. The tuna mousse keeps in the refrigerator for up to 1 week.
1 baguette, thinly sliced
One 6-ounce can tuna packed in olive oil, drained
1 tablespoon unsalted butter, at room temperature
1 tablespoon extra-virgin olive oil
2 anchovy fillets packed in olive oil, drained and chopped
4 teaspoons capers, drained
1/8 teaspoon Tabasco sauce or 1 pickled red chili pepper, drained and chopped
snipped chives or dill sprigs to garnish
Preheat the oven to 450°.
Arrange the sliced baguette in a single layer on a baking sheet and bake until golden, about 10 minutes; do not dry it out too much.
In a food processor, purée the tuna with the butter, olive oil, anchovies, 2 teaspoons of the capers, and the Tabasco until smooth and creamy, about 1 minute.
Spread the tuna mousse on the toasted bread. Top with the remaining 2 teaspoons of capers and serve within 30 minutes, garnished with the chives or dill. Serves 8
Harvest Vegetables with Warm Anchovy-Garlic Dip
Born as a mid-morning snack and communal meal for farmhands working in the vineyards in Piedmont, the dish has become a year-round favorite; during truffle season, it is showered with shaved white truffles. If you like, you can blanch the celery root and fennel before serving.
8 celery stalks from the heart, cut into 4-inch-long sticks
3 yellow peppers, cut into 4-inch-long sticks
1 celery root, trimmed, cut into 4-inch-long sticks
1 fennel bulb, trimmed, quartered, and cut into wedges
12 tablespoons (1 and ½ sticks) unsalted butter
1/2 cup plus 2 tablespoons extra-virgin olive oil
6 garlic cloves, minced
12 anchovy filets packed in olive oil, drained and chopped
Arrange the vegetables attractively on a platter.
Heat the butter, olive oil, and garlic in a 6-inch skillet over medium-low heat until the butter melts, being careful not to let the garlic take on any color, about 5 minutes. Stir in the anchovies and cook over medium-low heat, stirring, until the anchovies dissolve and the mixture smells less pungent, about 15 minutes; the sauce should emulsify. It is important that the sauce cook very slowly-don't burn the garlic or the anchovies.
Pour the sauce into a bowl and serve as a dip for the vegetables. If you can, keep it warm over as low flame. Serves 12
Wine-Laced Onion Soup
Few soups are as warming in the cold of winter as this Piedmontese classic. While the soup takes about 45 minutes to be ready, the active time in the kitchen is much less: the onions cook down by themselves, leaving you free to do other things around the house.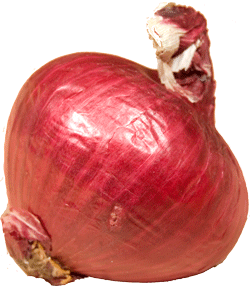 1 tablespoon unsalted butter
8 medium purple onions, thinly sliced
1 teaspoon salt
1/2 teaspoon freshly ground black pepper
1/2 cup dry red wine
6 cups chicken broth
16 thin slices baguette
1 cup freshly grated Fontina from Val d'Aosta
Melt the butter in a heavy, wide pot over medium heat. Add the onions and cook for 25 minutes, or until they are very soft and caramelized; stir every few minutes to ensure they cook evenly.
Season with the salt and pepper, deglaze with the wine, and cook 5 minutes, scraping the bottom of the pan to dislodge any juices and incorporate them into the onions. Pour in the broth and bring to a boil, uncovered.
Cook for 30 minutes, uncovered, stirring once in a while.
Meanwhile, preheat the broiler.
Place 4 slices of baguette in each of 4 oven-proof soup bowls (preferably the sort with a handle). Scatter the Fontina over the bread.
Ladle the soup over the bread and cook the soup in the preheated broiler for 5 minutes, or until the cheese is bubbly. Serve hot. Serves 4
Hazelnut-Chocolate "Brick"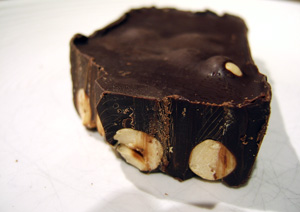 Torino (Turin in English) is Piedmont's capital city, a bustling center famous for its chocolates. Gianduja is Piedmont's pre-eminent chocolate confection, made with local hazelnuts harvested in the Langhe area. This "brick" is made by melting high quality bittersweet chocolate, stirring in toasted skinned hazelnuts, and refrigerating until set... nothing could be easier, or more decadent. The brick keeps for weeks, though it may lose a bit of its sheen in the refrigerator; it does make a lovely holiday gift wrapped in pretty paper.
¾ pound hazelnuts
1 tablespoon flavorless oil or non stick spray
1 pound bittersweet chocolate (or, better yet, Gianduja chocolate)
Preheat the oven to 375°.
Spread the hazelnuts out on an 11-inch x 17-inch baking sheet and toast in the preheated oven until golden and aromatic, about 12 minutes. Remove and cool to room temperature.
Rub the toasted hazelnuts in clean kitchen towels to dislodge the skins. Set aside.
Line a 4-cup terrine mold or loaf pan with aluminum foil. Rub the foil with oil or spray with the nonstick spray (this will make unmolding easier later).
Scatter the hazelnuts in the mold, covering the bottom evenly.
Melt the chocolate in a bowl set over a pot of simmering water until smooth; do not overmix the chocolate or it will look dull once cooled, instead of nice and shiny.
Pour the melted chocolate over the hazelnuts in the mold and smooth the top.
Cover with foil and refrigerate until set, about 2 hours.
Uncover, unwrap, and slice thinly with a very sharp knife while still chilled. Serve with espresso. Makes 1 and 3/4 pounds (serves 12)
Orange-Scented Almond-Chocolate Biscotti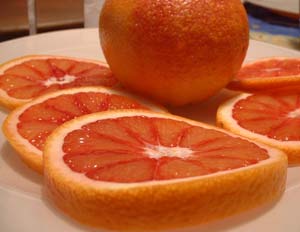 Walnuts make a lovely (if more robust) alternative to the almonds.
6 ounces blanched almonds
1 and 3/4 cups sifted unbleached all-purpose flour
1 cup sugar
1/8 teaspoon salt
1/2 teaspoon baking powder
1/2 teaspoon baking soda
3/4 pound bittersweet chocolate, coarsely chopped
2 large eggs
1 teaspoon vanilla extract
2 tablespoons orange liqueur
grated zest of 1 orange
Preheat the oven to 375°.
Spread the almonds out on an 11-inch x 17-inch baking sheet and toast in the preheated oven until golden and aromatic, about 12 minutes. Remove and cool to room temperature. Line two 11-inch x 17-inch baking sheets with parchment paper.
Combine the flour, sugar, salt, baking powder, and baking soda in a large bowl. Place 1/2 cup of the flour mixture in a food processor, add 1/2 cup of the toasted almonds and 6 ounces of the chopped chocolate, and process until powdery. Fold the processed mixture into the remaining flour mixture in the large bowl and stir in the whole toasted almonds and the remaining chopped chocolate until mixed.
In a small bowl, combine the eggs, vanilla extract, orange liqueur, and orange zest until thoroughly combined. Fold the egg mixture into the dry ingredients with a fork, then switch to your hands and knead until the mixture forms a cohesive mass and comes together; this will take vigorous kneading since the dough is quite dry.
Turn the dough out onto a counter and press it into a flat mound with lightly moistened hands. Cut into 4 pieces and shape each piece into a 1 and 1/2-inch-wide log. Place the logs on the prepared baking sheets, leaving at least 1 inch between the logs, and bake in the preheated oven for 25 minutes, or until set. Remove to a cutting board. Cool 10 minutes.
Using a sharp knife, cut each log on the diagonal into 1/2-inch-thick slices. Return the biscotti to the baking sheets and bake in the preheated oven for 10 minutes, or until crisp (they should not be too crisp, however; they will crisp further as they cool). Cool on a rack and store in airtight tins for up to 2 weeks. Makes about 4 dozen biscotti