Most Italians know and love the stuffed olives from the Marchigiano town of Ascoli Piceno, fried until golden in a crispy robe of egg and bread crumbs, but outsiders have yet to discover the wealth of classic recipes from this region. Whether you are partial to thick, chunky seafood soups or prefer grilled meats imbued with wood smoke and aromatic herbs, the cuisine of the Marches deserves to be explored. Sheep's milk cheeses aged in caves for months lend a unique flavor to favorite dishes, and griddle-cooked flatbreads accompany most meals in this little-known Italian region.
Additional Recipes from The Marches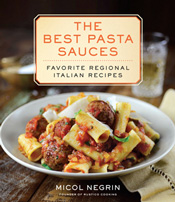 Published in The Best Pasta Sauces by Micol Negrin (Ballantine Books, October 2014):
Sausage and Cabbage Sauce
Shrimp Sauce with Garlic and Parsley
Tuna, Anchovy, and Olive Sauce with Fresh Tomatoes
Smashed Potato Sauce with Cracked Black Pepper and Olive Oil
Aromatic Vegetable Sauce with Prosciutto and Pancetta**
**Bonus recipe available in exclusive companion eBook when you order The Best Pasta Sauces directly from RUSTICO COOKING.
Marches Recipes
Attilio's Stuffed Baked Potatoes
A true Marchigiano, my father-in-law Attilio has both a great deal of patience and a great love of all stuffed foods; he stuffs olives like cooks from his home town of Ascoli Piceno, stuffs peppers, mushrooms, and more… These delicious stuffed potato packets are his invention, patiently prepared for dozens of people at every De Angelis family cookout. Attilio cuts each potato in an accordion fashion and inserts slices of onion in every slit; as the potatoes cook atop the flames, the onions nearly melt. The technique is similar to the old peasant one used throughout Italy: take a whole potato and bury it in the dying embers of a fire until it becomes tender. Here I suggest baking the potatoes in their foil packets, but do grill them instead (still in foil packets) if you have access to an outdoor grill.
4 medium baking (Russet or Idaho) potatoes, scrubbed
4 medium yellow onions, sliced into 1/2-inch-thick rounds
1 teaspoon salt
¼ teaspoon freshly ground black pepper
4 teaspoons unsalted butter, cubed
Preheat the oven to 400 degrees.
Place the potatoes on a cutting board. Make 6 or 8 incisions in each potato, reaching almost all the way to the bottom; the only uncut piece should be the skin at the bottom of each potato and an 1/8-inch piece of potato directly above it. The goal is for each potato to resemble a potato fan.
Insert a slice of onion in each of the incisions you have made in the potatoes (be careful not to separate the potatoes); the onions will stick out above the potatoes. Cut sturdy aluminum foil into four large squares. Place the foil, shiny side up, on the counter. Top each foil square with one stuffed potato. Sprinkle the potatoes with the salt and pepper. Dot the top of each potato with one-quarter of the butter and fold to enclose into tight bundles. Be sure the edges are sealed (or the butter will cause flare-ups in the oven if it melts and leaks out).
Place the foil bundles on a baking sheet, seam side up, and bake in the preheated oven for 45 minutes to 1 hour, or until tender when pierced with a knife, without turning. Serve hot, opening the bundles at the table. Serves 4
Bacon-Wrapped Truffled Monkfish Filets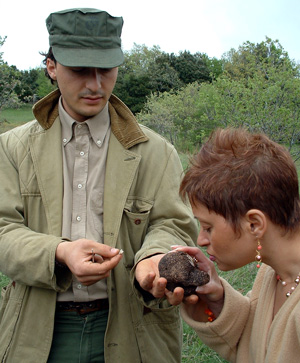 Elegantly simple, temptingly luxurious: such is this lovely main course starring fragrant black truffles. The Marches boast all sorts of indigenous truffles, including the highly prized Tuber Magnatum Pico, sold at the truffle market in Acqualagna for exorbitant prices. In the photo: a truffle hunter in central Italy with a freshly dug black truffle.
2 pounds boneless monkfish, trimmed of purple membrane and cut into 6 pieces
3/4 teaspoon salt
1/2 teaspoon freshly ground black pepper
1 fresh black truffle
12 thin slices bacon
1 tablespoon extra-virgin olive oil
1/2 cup dry white wine
2 shallots, minced
1/4 cup heavy cream
2 tablespoons snipped chives
Preheat the oven to 350°.
Season the monkfish pieces evenly with 1/2 teaspoon of the salt and 1/4 teaspoon of the pepper. Cut half of the truffle into slices and the other half into a fine dice; lay the truffle slices over the pieces of monkfish and wrap each piece of monkfish in 2 slices of bacon to enclose.
Place the monkfish in a single layer in an ovenproof dish, drizzle with the olive oil, and bake in the preheated oven for 20 minutes, or until done (the monkfish should feel firm to the touch and no longer be translucent).
Meanwhile, combine the wine and shallots in an 8-inch pan and bring to a boil over high heat. Cook 5 minutes, or until the wine reduces to a syrupy glaze. Add the cream; cook for 2 minutes, or until reduced by half. Season with the remaining 1/4 teaspoon each of salt and pepper; stir in the diced truffle and the chives, and remove from the heat. Arrange the monkfish on a serving platter and serve hot, with the sauce spooned over it. Serves 6