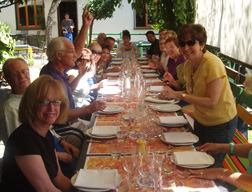 This will be an unforgettable week! Our culinary vacation will begin on Monday May 27 at 4 pm at the villa. The majority of people who take tours with us spend a couple of days in their city of arrival in Italy - whether Rome, Milan, Florence, Venice or other - and then join us when the tour starts. This is a good way to plan your trip, since it will give you a day or two to beat the jet lag (depending on what time zone you are coming from). Some folks will be driving, others flying in to nearby airports, others taking the train.
Florence is the closest major city, train station, and airport. We can help you get to and from the villa by suggesting a car service that will pick you up or drop you off from your hotel in your city of arrival, or from a train station or nearby airport of your choice.
Check in is at 4 pm on May 27, and after you settle into your private room, we'll start off with a welcome reception: a little wine, some finger foods to nibble on, and the opportunity to meet your fellow travelers; this will be followed by a relaxing dinner at the villa.
The next morning, we'll enjoy our first hands-on cooking lesson in the villa's kitchen, followed by lunch, an afternoon of sightseeing and culinary discovery, and dinner in a nearby town.
This will be the pace of our week together: cooking in the mornings, lunching together, and discovering Tuscany by private bus in the afternoons. We'll include wine tastings, olive oil tastings, encounters with local food artisans, and more on our daily itineraries, so every day will bring a new adventure. (We would also love to include a visit to one of Italy's pre-eminent chocolatiers... we'll keep you posted!)
Since we'll be exploring small medieval towns, there will be some walking involved, including some stairs or moderate hills; we suggest comfortable walking shoes.
The Villa is located in a small municipality near Florence. The setting is classically Tuscan: cypress trees, olive groves, and undulating hills unfold below, and you can even see the domes of Florence on a clear day. The Villa was once part of the Medici family's holdings; set in 70 hectares of wooded land, it produces its own olive oil and has its own fourteenth-century chapel. As mentioned, we can help you get to and from the villa by suggesting a car service that will pick you up or drop you off at a nearby airport, train station, or hotel.
Cooking Classes at the Villa:
Italian food is extremely varied and deeply regional. From making fresh pasta by hand to kneading focaccia dough, roasting and braising meats, poaching fish, whipping up amazing desserts, and more, each class at the villa will focus on key Italian culinary techniques and will culminate in a full Italian meal. By week's end, you'll have perfected many essential culinary skills and learned dozens of Italian dishes.
Restaurant Dinners:
We have selected restaurants in nearby medieval towns where you can enjoy a taste of the local cuisine. Some restaurants are elegant, others cozy, but all will provide us with a memorable gastronomic experience. The only prerequisite is to bring your appetite, because the meals will be generous and wine is always included!
Dietary Restrictions:
Please note that due to the nature of the hands-on cooking classes (intended to provide a breadth of knowledge and perfect a wide range of skills), as well as the group nature of the regional dinners we will be experiencing at local restaurants, there will be no way to accommodate gluten-free, vegan, or dairy-free requirements.
Waiver & Medical Form:
We ask that all tour participants complete a waiver and release form as well as a medical form for their own safety. Any medical information shared will be kept absolutely confidential and will be used only to facilitate communication with medical personnel in the case of an unforeseen medical emergency while in Italy; please rest assured that this is the ONLY purpose of the medical form. All paperwork will need to be completed and returned with final payment by February 26, 2019 at the latest to secure your spot(s).
A deposit of $1,000 per person is required to reserve, payable by check. There is an option to pay by credit card (a service charge of 3% applies for this option), see button below. Final payment is due on February 26, 2019. Deposits and final payments are non-refundable.
Price is subject to change as a result of international currency fluctuations that may affect the cost of air/land/sea transportation, hotels, or other related services.
Refunds: In the event that we must cancel a trip, you will be given a full refund of all deposits and payments. We do not give refunds of deposits or final payments for tours that commence as scheduled, including for unused portions of the tour. We do give credit for cancellations as noted below.
Cancellation Credit: In the event you cancel your tour for any reason, we allow credit for payments (but not deposits) in the following way:
100% credit for future tours given with 90 days notice.
60% credit for future tours given with notice of 60 to 89 days.
30% credit for future tours given with notice of 30 to 59 days.
No credit given for cancellation less than 30 days prior to start date of the tour.
No credit for the reservation deposit.
All cancellation credits are good for two years from the start date of the originally scheduled tour.
Follow us on

twitter and

facebook for news, special offers and promotions...