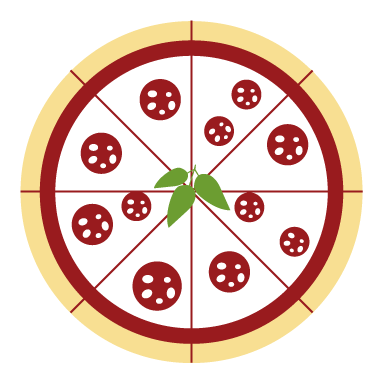 Pizza: One of Italy's greatest foods, and a truly fun dish to make as part of a group! If you're looking for an informal way to bond with your colleagues or connect with your friends, book a pizza party.
Here's how it works: when you first arrive, you'll enjoy a selection of just-made finger foods with wine and beer. Then, after about 30 minutes, your group will divide into small teams; each team will make pizza dough from scratch, then roll out and top their dough using the ingredients that strike their fancy from a colorful array of vegetables, cheeses, cured meats, and more. Once the pizzas are baked, we'll slice and serve them to your group family-style at our lovely dining table, so everyone can taste everyone's creations.
We'll also serve a green salad and roasted seasonal vegetables, and finish up with a homemade dessert and espresso. Wine and beer, as well as sparkling water and soft drinks, will be provided with the meal. The cost is $135 per person plus tax and gratuity, and the cost includes half a bottle of house wine per person and 1 beer per person.
This is a great party idea for groups that really want to be very hands-on in the kitchen and who prefer small teams for the entire cooking process. A bonus: You'll get to take your pizza dough home after the event, since you'll be baking off dough that our chefs will have prepped the day before (one of the tricks to really delicious, airy pizza is that the dough has to rise overnight at cool temperatures).
PIZZA PARTY MENU

Assorted Pizzas - you choose the toppings!
Mixed greens in balsamic vinaigrette
Roasted seasonal vegetables
Homemade dessert
Espresso