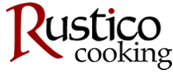 Rustico Cooking Gift Certificates, Cookbook, & Aprons

Give the food lover in your life the ultimate gift: a gift certificate for a hands-on cooking class or a wine tasting in New York City. Recipients can redeem certificates for any cooking class on the calendar, so they have total freedom! Buy any number of classes, and we will email you a printable gift certificate as a PDF file within 24 hrs (and usually much faster!) so that you can give the recipient his or her gift right away... We can even personalize the certificate with the name of the recipient(s) and a custom message. Complete the gift by adding a Rustico Cooking apron... your gift will be remembered long after the class is over!!!
A certificate for $110 will cover the cost of one spot in the majority of our cooking classes; a few of our classes, including our most popular cooking class (The Ten Best Pasta Sauces), cost $120 per spot. You can choose which option here...You can even add an apron to the gift certificate, the recipient will receive it when they arrive in the class of their choice! If the recipient selects a more expensive class than the value of the certificate purchased, they can simply pay an upgrade upon redeeming. If they select a class that is less expensive, then any balance left can be used towards aprons or another class.)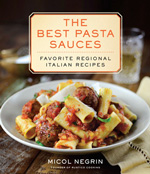 Micol's third cookbook will be published by Ballantine Books (a division of Random House) in October 2014. Filled with gorgeous color photography, 80 recipes for regional Italian pasta sauces, fool-proof techniques, and entertaining anecdotes, this 256-page book is sure to become a favorite on your cookbook shelf. We'll start taking orders for copies of the cookbook autographed by Micol shortly; stay tuned! Otherwise, you can preorder copies at Amazon, Barnes & Noble or Indiebound.
Add an apron to your gift certificate order... When the lucky recipient comes to class, they will receive one of our Rustico Cooking aprons! Note that we do not ship the aprons, we will hand them out to the recipient at the beginning of the class.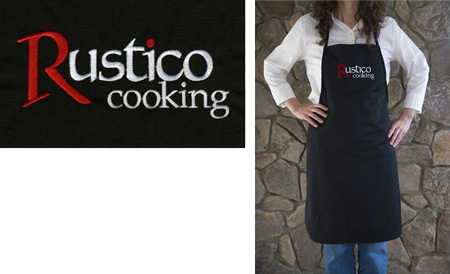 Cooking classes are hands-on and give participants a firm grasp of basic ooking techniques, a thorough understanding of essential Italian ingredients and how to best use them, and foolproof recipes to recreate for family and friends. After we cook, we sit down for a full lunch or dinner paired with Italian wines. You can see a cooking class calendar here.